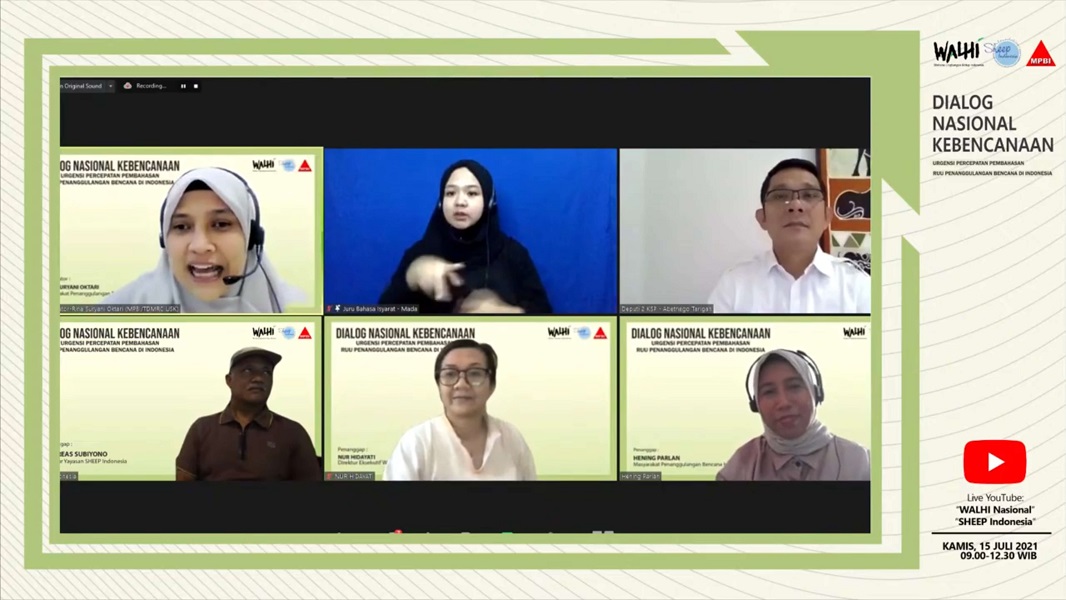 "National Disaster Dialogue: Will Disaster Governance Get Better In the Future?" It took place on Thursday 15 July 2021 at the initiation of SHEEP Indonesia Foundation (YSI) and WALHI.The event, which was conducted online through the zoom platform, was attended by more than 200 participants who joined either through zoom or through YSI &WALHI Youtube channel.This dialogue was filled with the presentation of two speakers, Dr. TB.H.Ace Hasan Syadzily, M.Si (Chairman of the Bill Panja PB Commission VIII DPR RI) and Abetnego Tarigan (Deputy Chief of Presidential Staff) and responded by Hening Parlan from MPBI, Andreas Subiyono from YSI, and Nur Hidayati from WALHI.
The national dialogue on disaster was initiated to respond to the extent to which the discussion of the NT Bill that began in January 2020 has entered into prolegnas.A year running, has not found the bright spot of this bill to be a law that remains in the future, so it is still referring to Law 24/2007.There are two things that still make the debate between the House of Representatives and the Government, namely the inclusion of the nomenclature "BNPB and BPBD" and its functions; disaster management funding from ready-to-use funds (DSP) with mandatory spending of 2% of the state budget.
This dialogue produced three recommendations, namely:
1.Accelerate the discussion of the Disaster Management Bill
2.There needs to be an evaluation of the performance of institutional governance of disaster management so far by independent institutions
3.Ensuring the revisions are carried out while maintaining the spirit of a more proactive paradigm change in disaster management by paying attention to micro-disasters by strengthening local communities to truly understand vulnerabilities, risks, capacities and understand how the community has the power to talk about its rights; immediately touch on the issue of restoring the dignity and dignity of the community and focusing on community risilensi related to food, life, and resources; and not maintaining disasters as a new source of financing that does not actually contribute to the welfare of the general public.